At Corcoran Icon Properties, we believe in celebrating the remarkable efforts of our team members who make a positive impact in their communities. In our new series, "Change Makers: Spotlight on Social Good," we are thrilled to share inspiring stories of philanthropy, office events, and community outreach initiatives. In the second part of our series, we turn the spotlight on Pam Parker Murphy, a dedicated REALTOR®, and her extraordinary work with the Detroit Steps Project.
Pam Parker Murphy and the Detroit Steps Project
Initiated in 2018, Pam Parker Murphy unveiled her visionary plan during a Sunnyside Neighborhood Association meeting. Her goal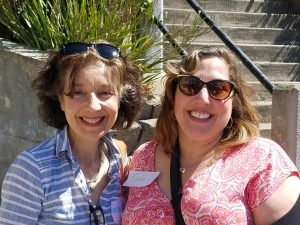 was to collaborate with a community of volunteers to transform a neglected, overgrown public stairway into a scenic destination for the Sunnyside neighborhood. Thus, the Detroit Steps Project was born.
Under Pam's leadership, the project gained momentum, but she also recognized the value of strong teamwork. She appointed Rosaura Valle, another Sunnyside neighbor, to lead the day-to-day efforts of the Detroit Steps group and the steering committee consisting of 12 dedicated volunteers. Together, they have been instrumental in managing various efforts and collaborations with San Francisco's City agencies. What was once just one resident's vision has now become a collective neighborhood effort, involving more than 200+ people, to create an inspirational scenic staircase for all to enjoy.
The Transformation
Thanks to the relentless efforts of the volunteer group, the two-block stairway has been completely cleared out. Collaborating with the Department of Public Works (DPW), they have repaired the infrastructure and installed a new steel decorative fence, decorative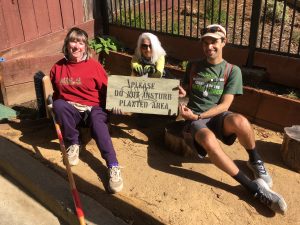 lighting, terracing, landscaping, signage, and water meters. Soon, a steel archway will welcome pedestrians to the steps from Monterey Blvd, creating a grand entrance for all to enjoy.
Community Engagement and Future Plans
The Detroit Steps Project is not just focused on the physical transformation of the stairway but also on fostering community engagement. Regular monthly maintenance day events allow volunteers to come together, ensuring the steps remain in pristine condition. In addition, the project has exciting plans in the pipeline. An upcoming community movie night on the steps will bring neighbors together for an enjoyable evening. Furthermore, an archway ribbon-cutting party with a BBQ will celebrate the completion of the iron archway. Fundraising efforts have also begun to create breathtaking mosaic tile steps that will span the entire two-block stairway.
Together, both Pam and Rosaura have shown how collaboration and dedication can transform a community and inspire positive change.
Join Us in Celebrating Change
At Corcoran Icon, we are immensely proud of Pam Parker Murphy's dedication and the positive impact she has made through the Detroit Steps Project.
To learn more about Pam Parker Murphy and her work, visit her on Instagram @pamparkerproperties
For more information about the Detroit Steps Project, visit their website:
detroitsteps.org
Follow the Detroit Steps Project on social media:
facebook.com/detroitsteps
Let's be the change makers and create a brighter future, one step at a time.