In our series, "Change Makers: Spotlight on Social Good," we celebrate the remarkable efforts of our team members who are making a positive impact in their communities. Today, we meet Andria Brugioni, an agent from our San Mateo office, and we shine a light on her meaningful work with Level, a children's shoe company that champions universal equality. We'll explore how Level's shoe, the Grace Loving, is making a difference by supporting the San Mateo Pride Center.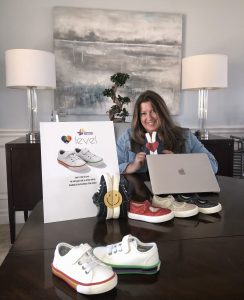 Andria Brugioni and Level's Commitment to Equality
Andria Brugioni is the proud owner of Level, a children's shoe company that embraces the concept of equality. Inspired by the vision of creating a more inclusive world, Andria chose the name "Level" to amplify the importance of equal opportunities for all. With a strong commitment to giving back, Level actively supports vital charitable causes.
The Grace Loving Shoe and San Mateo Pride Center
As part of Level's dedication to promoting equality, they designed a shoe called Grace Loving. For every pair of Grace Loving shoes sold, a portion of the proceeds are donated to the San Mateo Pride Center. This helps raise awareness and provides tangible support to an organization that serves a vital role in the LGBTQ+ community.
San Mateo Pride Center and its Impact
The San Mateo Pride Center is a local organization that fosters inclusivity, support, and advocacy for the LGBTQ+ community in the San Mateo area. Through various programs, events, and resources, the center provides a safe and welcoming space for individuals of all sexual orientations and gender identities. Their work contributes to the overall well-being and empowerment of the LGBTQ+ community and creates a more accepting society.



Join Andria in Supporting San Mateo Pride Center
At Corcoran Icon, we applaud Andria Brugioni's dedication to lifting our community through Level's support for the San Mateo Pride Center. We invite you to follow Andria's journey and Level's initiatives on her social media handles @hellosmartgirl and @thebrandlevel Stay updated on the latest news and events from the San Mateo Pride Center by visiting their website SanMateoPride.org or connect with them on Instagram @sanmateopride.
Let's celebrate diversity, equality, and the importance of supporting organizations like the San Mateo Pride Center. Together, we can create a more inclusive world, one step at a time.
To learn more about Level and to support their mission, visit the website thebrandlevel.com