Henry Schlangen, Senior Sales Associate with Corcoran Icon Properties' St. Helena office, presents Sentinel Ridge, a legacy vineyard estate in California's world-renowned Wine Country. Howell Mountain, which rises more than 1,600 feet about the iconic valley and upon which Sentinel Ridge sits, affords breathtaking views.
The entire compound was designed to maximize the impact of its setting in Napa Valley and minimize the impact of its footprint in nature. With over 3,600 square feet of gracious living space, the property seamlessly combines elegance and nature in an organic blend of both. The estate was originally commissioned by a couple seeking refuge from their Midwest suburban home, and grandly surpasses that original desire.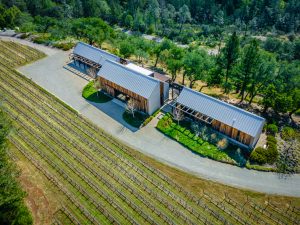 This amazing 12-acre parcel offers gracious living that includes an expansive recreation barn where large sliding doors can be opened to connect with the great outdoors. One outstanding feature is the large table, made of reclaimed and repurposed materials, which slides along tracks, and functions as either a dining table or a tasting table for the adjacent wine cellar.
The structure includes a mezzanine, referred to as "the perch," which is ideally suited as an office, plus a living room, kitchen, primary suite, and three en suite bedrooms. "The home's overall effect – a careful and studied blending of interior and exterior – always manages to bring the attention back to the perfection of the land outside," a studio spokesperson explained.
When it was time to enlist the services of a viticulturist and winemaker, the esteemed Davie Pina and Russell Bevan were obvious choices. Davie was tasked to design, plant, and manage the vineyard at the highest level and Russellto make the finest estate Cabernet Sauvignon possible. With scores reaching a high of 99 points, the vineyard has not disappointed. 
Designed by Field Architecture in concert with landscape architects, Roche and Roche, the agrarian-styled home has received multiple awards and acknowledgments for innovation and design. Field Architecture has been recognized with the AIA California Council's Residential Honor Award for Sentinel Ridge, featured in Luxe Magazine and Architect Magazine.  It was also one of the two Erin Martin Design projects featured in Andrew Martin's Interior Design Review World's Top 100 Designers, in which Erin Martin was named Interior Designer of the Year.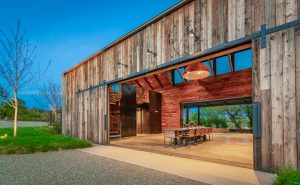 Built in 2016, Sentinel Ridge received a 2020 Merit Award in the Residential Design category from the Northern California Chapter of the ASLA. The property is featured on the cover of the coffee table book Wine Country Living, published by Rizzoli New York in 2020. Grassi & Associates received awards for its construction and Dexter Estate Landscapes for landscape construction.
"The serenity and beauty of the setting along with the grace and grandeur of the residence combine to make Sentinel Ridge a magical dwelling place," remarked Henry Schlangen, listing agent. "The materials of the structure blend seamlessly with the environment creating a calm and serene ambience."
Sentinel Ridge is listed for $7.5 million. Schlangen may be reached at 707.235-5951 or