Loleta, CA – April 26, 2023 – Jon Witkop and Michelle Rowland, from Corcoran Icon Properties' Eureka office have just listed the historically significant Southport Landing mansion at 444 Phelan Road in beautiful Loleta, CA. Just five miles north of Eureka, the property is located near the southern waterway of Humboldt Bay.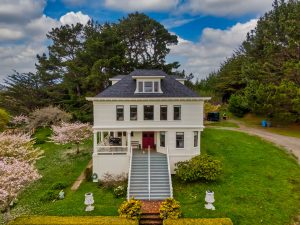 Charles Heney was the original owner of the land, and it was part of his agricultural holdings. 
Heney had arrived in San Francisco with the 1849 Gold Rush from New Brunswick and subsequently landed in Eureka in 1855. He opened a general store and became postmaster before buying the Southport ranch. His dream included the development of Southport as a town and a shipping point for the agricultural community. He built a railroad in 1885 to facilitate getting goods to market. However, weather and circumstances were against the plan, and he was out of business by 1885. His son, William, owner of the Humboldt Times in Eureka, was drawn to the area and completed the Colonial Revival home at the end of a country lane, moving his large family to Southport in 1901. 
The home sits on a 2.84-acre site with majestic views of the Bay, pasturelands, and cypress forests. The three-story home of 5,400 square feet includes eight bedrooms, four baths, den, rec room, dining room, kitchen, laundry room and living room – a total of 20 rooms, all with lovely views of the dramatic surroundings. Like a step back in time, the graceful staircase, the glossy patina of wood floors, light fixtures, detailed period appointments, and the expansive veranda all capture all the building's luxury and history. 
Once the family had grown and moved on, the home fell into decline for a time. Then in 1987, a new owner restored and returned the mansion to its former glory with modern wiring, plumbing, and sheetrock. Subsequent owners redecorated and opened it as a bed and breakfast in 1997.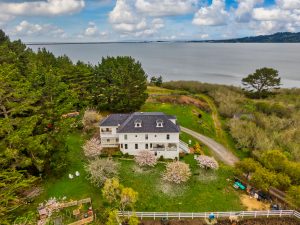 Southport Landing is a registered historic home located on the shores of Humboldt Bay built at the turn of the century. This early colonial revival residence was once a haven for weary ship captains and the hub of the township of Southport, a rail and shipping port connecting the Eel River basin with San Francisco. Now, hiking, kayaking, bicycling, bird watching, and beach combing are easily accessible.
"Southport Landing is almost magical in its setting as well as its design," commented Witkop, listing agent. "It's a timeless classic property that can transport you to another time and a lovely dimension." The home is listed at $1,275,000. Witkop may be reached at 707.515.6683 or jon.witkop@corcoranicon.com. And Rowland can be reached at 707.599.9446 or michelle.rowland@corcoranicon.com.